Recently the Torch Antifascist Network released 560+ leaked PDFs depicting over fifteen months of chat logs of Patriot Front's "general" or membership-wide private RocketChat channel. To access these files and read their analysis by Torch Network antifascist comrades:
For a brief account of the formation and history of Patriot Front, see the above link or our previous community advisory from May of this year:
As can be expected, these internal discussions reveal everything that white nationalists hope to keep to themselves, from the banal to the totally horrific. From relationship advice between misogynist bros to Zionist conspiracy theories, anti-blackness and scapegoating of immigrant people, these chats reveal exactly what one would expect: a seventh grade lunch table of violent xenophobia. This isn't surprising, coming from an organization whose primary accomplishment so far is being associated with killing someone rather famously in Charlottesville. In the three years since that damning day, Patriot Front's leadership has tried desperately to steer the group toward some semblance of legitimacy and trustworthiness. To no avail, it seems – the group is lousy with deeply entrenched bigots and Mama's basement Nazis of the worst order. The chats reveal the stark disparity between what they hope to convey to the general public, and what they're actually about.
This is what they say when they think no one is watching.
The definition of their "Nation", for example is much expounded upon, and as one could guess, is explicitly white:

This is not surprising, since the "Manifesto" (their founding document, written by Rousseau when he was not yet 17) explicitly states that "nationhood is born of blood, not ink" and is available only to other descendants of European nations who colonized North America within a specific time frame.
Their false assertion of victimhood even extends to "reverse racism" – aren't Nazis the REAL victims here?!? Their patent delusions include thinking that white nationalism should be protected from any social consequences:

Various forms of hatred permeate the daily discourse. Homophobia is a constant:


Some congratulated a Florida member for defacing the Pulse Nightclub shooting memorial mural:
Of course there is blatant, unbridled misogyny:

They need to blame their sad lot in life on a whole lot of people – generally demographically, so unsurprisingly their belief in bizarre anti-semitic conspiracies abounds:



Being a Nazi is generally depressing, so they spend a fair amount of time consoling each other and attempting to convince each other that being Nazis gives them a purpose in life. That, and just generally egging each other on to be better Nazis: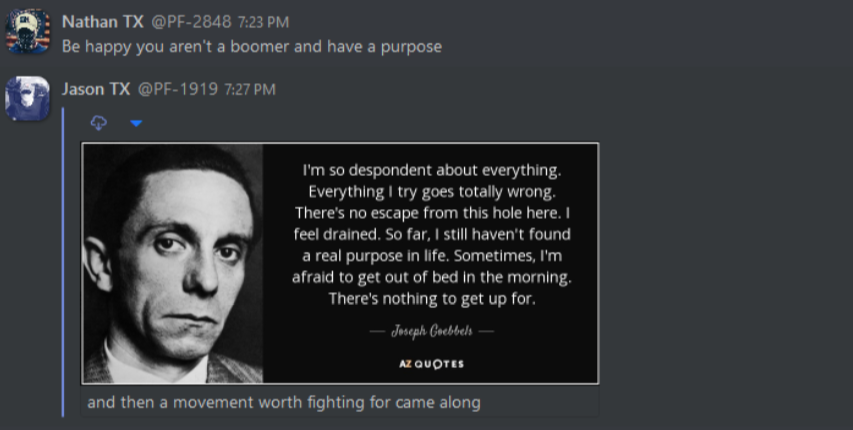 They also have very brittle and fragile egos and have an absolute obsession with comparing themselves favorably to other white supremacist organizations: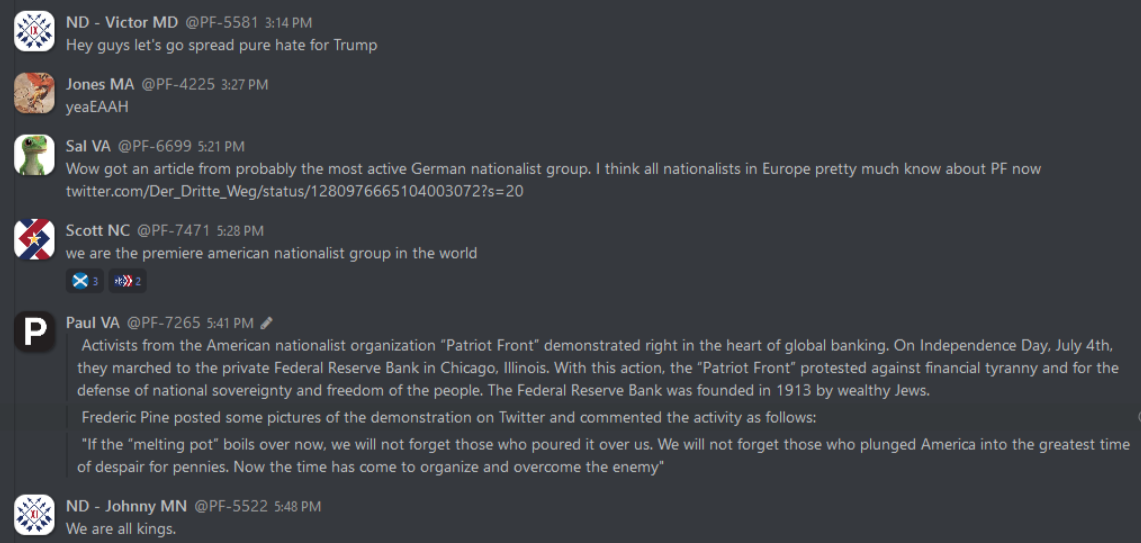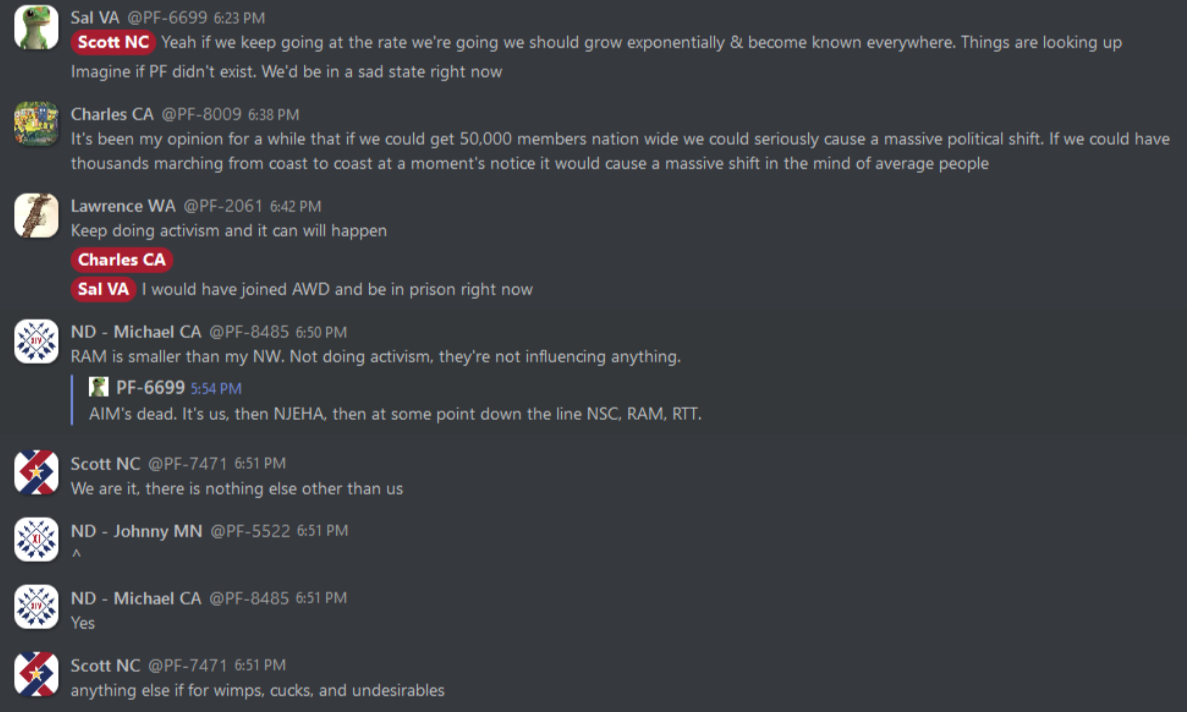 For the purposes of this advisory, we'll be showcasing various screenshots to illustrate our points, but are primarily focused on California members. Here we have a local: "Charles" PF-8009, a young native of San Francisco who despite having been born and raised in one of the most diverse cities in the world, is very unhappy with diversity:
In other parts of the chat, Charles admires Casa Pound's base in Rome and states that he would love to host headquarters for white nationalists in San Francisco, but laments that the rent is too high. He is proud to have been radicalized in his early 20's and not have suffered the fate of his three older brothers, whose potential lifespan he finds potentially at odds with his political goals: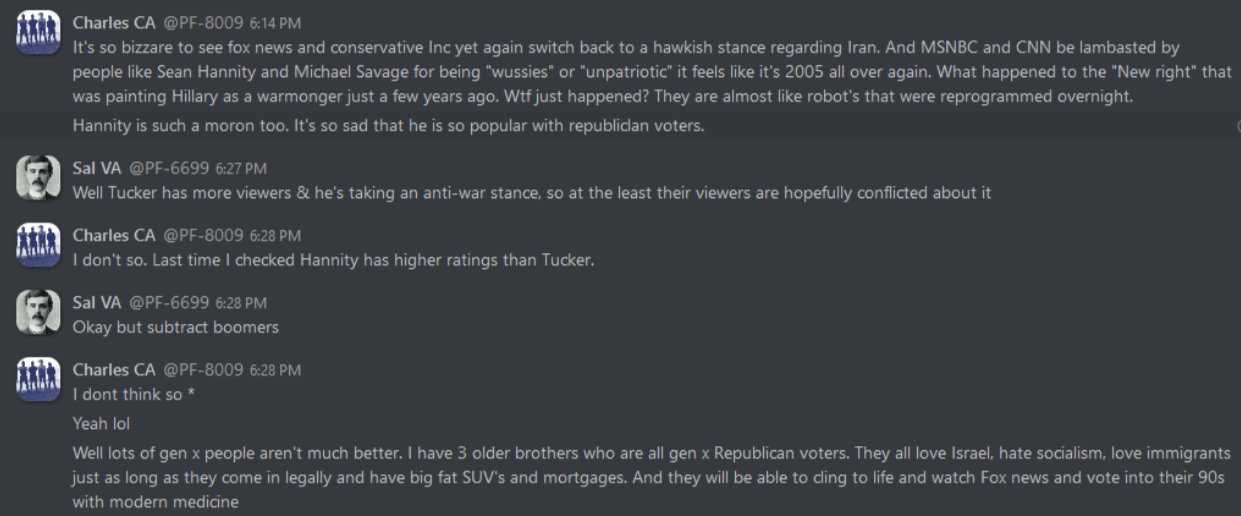 On the very same day he throws his actual brothers under the bus, his profile photo is of him and his three Patriot Front "brothers" (as they refer to each other) after their hypermasculine sparring session at Land's End. One of the strapping young lads in this photo is undoubtedly the same person who has stickered the Sunset District along Lincoln, Irving and Judah streets, Golden Gate Park and the upper Haight. Perhaps he commutes via the N Judah train? Charles, is that you?!?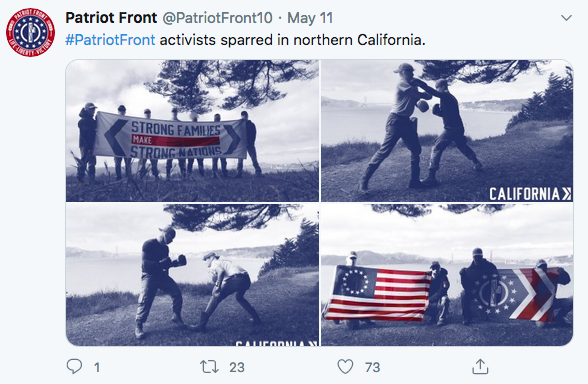 Of the approximately 160 Patriot Front members participating in the chats, fourteen are from California. There are two networks in California as of this writing –
NorCal NW12
which formed 12/16/19 and of which there were approximately four members as of 1/3/20, SoCal NW14, and other members whose exact location are unknown. Paul PF-7265 became the Northern California Network Director immediately upon its formation and travelled extensively the last 3 weeks of 2019 to DC, Maryland, Florida and Texas to network and create ties with other PF clusters and members. He definitely made connections in Virginia, where he moved around 6/1/20. Other members likely in NorCal are Josh PF-7674, Jack, and Henry, who was identified by Paul PF-7265 as having placed promotional materials around Lake Merritt. Perhaps this is his work?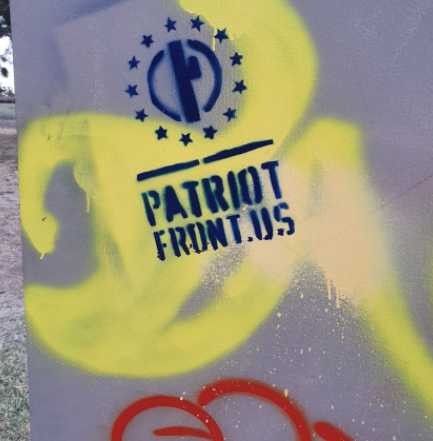 In Southern California the most active member is Michael PF-8485, who became Network Director on 3/2/20.
Bay161 has been monitoring and mapping Patriot Front's local activity for almost a year. In that time we've established a few patterns of where they've placed promotional materials and attempted to establish a presence. UC Berkeley, Laney College/Lake Merritt in Oakland, several points in Alameda are the most consistent. The community response has been inspiring: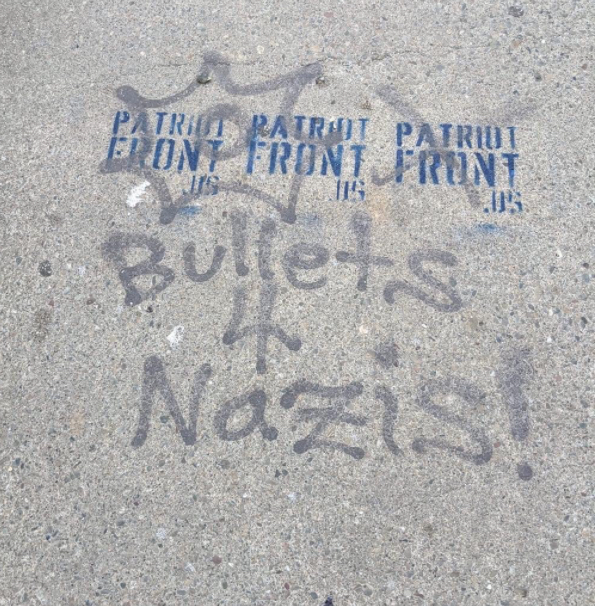 When left alone to flourish, white nationalists create an unsafe environment for all those who are the targets of their considerable venom. Ignoring them is a bad idea, since many of us and those we care about are their "degenerates", "mongrels", "thots" and other groups they deem undeserving of free travel, migration, civil liberties and human rights. Bay161 seeks any information as to the identities of the Patriot Front members detailed here and also exact locations and images of their promotional materials. Whenever it is safe to do so, please report tips to us at bay161

@

riseup dot net