These White Nationalist/Neo Nazi groups are active in the Bay Area. If you see stickers, flyers, flags or graffiti with these images, report the date and location to bay161 at riseup dot net. Whenever possible, tear down or post over their materials.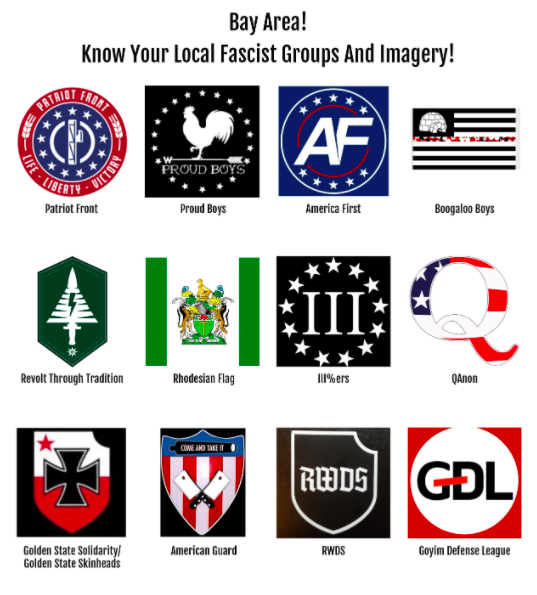 1. Patriot Front (national organization) – "Patriots" by light of day, admitted white nationalists and National Socialists (i.e. Nazis) behind closed doors. Their dream is a white ethnostate with the enforcement of "traditional white families", with all of the racism, misogyny, homophobia and transphobia that infers. They pretend to be mere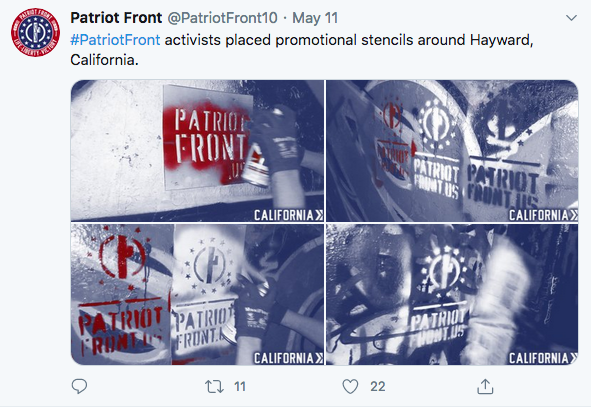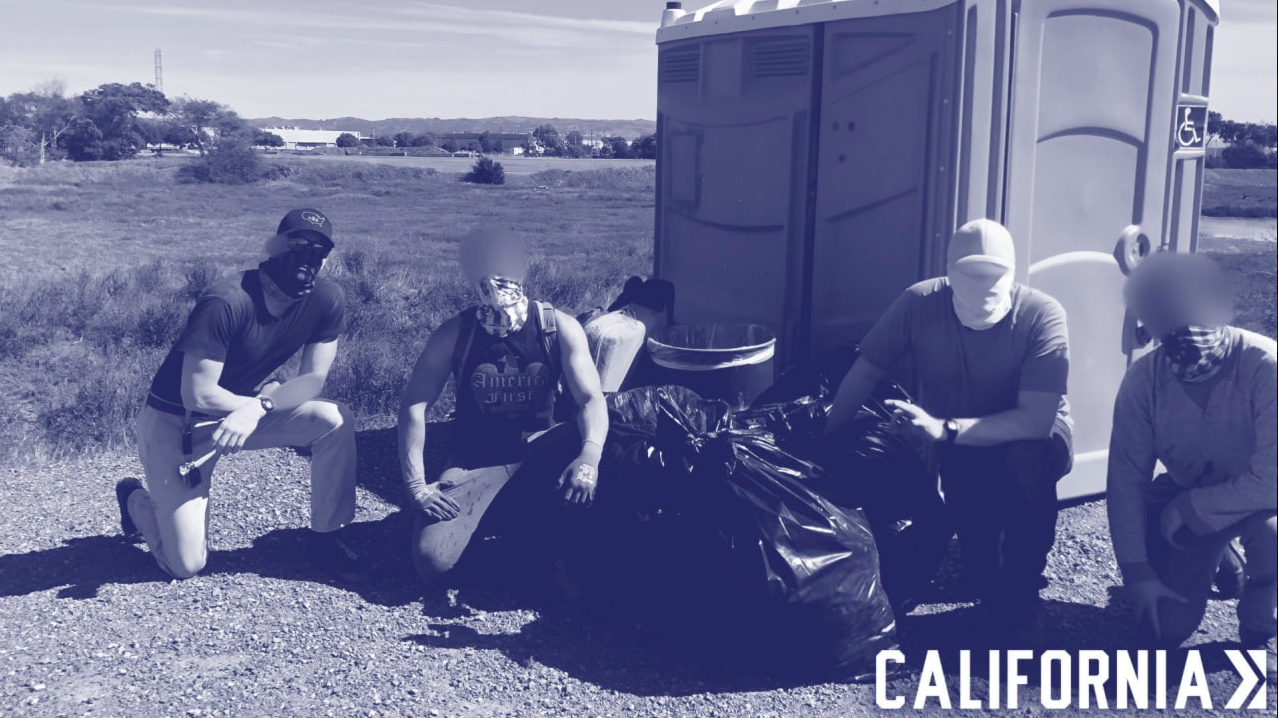 conservatives but in private chats they celebrate Hitler's birthday and admit their goal is to deport all nonwhite people and put "deviants" in work camps. There are between one and three hundred of them in the US and a network of at least 4 known members in Northern CA who occasionally do stickering/stenciling/"trash cleanup" and banner drops in the Bay and post them to their social media.
https://patriotfront.us/
https://torchantifa.org/inside-patriot-front-analysis/
https://bay161.blackblogs.org/may-2020-patriot-front-advisory/
2. Proud Boys (national organization) – Most people know them as a racist fraternity & drinking club, but their ties to blatant white nationalists and full-blown Nazis have become more and more obvious. They espouse violence, posture endlessly and show up to hate events to do "security". If there's no counter protest, they will wander the streets assaulting marginalized people, especially queer and trans people and POC. They have a revolving door of participants and large events draw them from points in the Bay and beyond. They had meetups in the Mission a few years ago, and routinely meet up in Sacramento. The fact that they got a shout out from Trump has reinvigorated what we thought was fading out, and has increased their level of violence. They're pretty much guaranteed at "Straight Pride" events.
https://rosecityantifa.org/articles/pb-intro/
https://www.splcenter.org/fighting-hate/extremist-files/group/proud-boys
3. America First White nationalist movement masked as a pro-Trump "old school" (read neo-segregationist, anti-Black, white supremacist) conservative movement headed by 2017 Charlottesville Unite the Right attendee and Holocaust denier Nick Fuentes. With ties to groups like Identity Evropa and American Renaissance, the "Groypers" (what some adherents to America First call themselves) often style themselves as campus conservatives and have waged a "culture war on the culture war" showing up at Turning Point USA and other mainstream conservative youth groups to push them further right towards overt neo-Nazism. Fuentes was a major organizer around the J6 capitol storming and the lead up #StopTheSteal protests, where numerous America First flags were spotted. Local crossover with sympathetic members in leadership positions in UC Berkeley's Berkeley College Republicans, Mt. Diablo Republicans, as well as the statewide California College Republicans/California Federation of College Republicans.
https://antifascistchicago.noblogs.org/post/2019/11/04/nick-fuentes/
https://www.irehr.org/2020/04/22/new-effort-to-inject-white-nationalist-immigration-stance-into-college-republicans/
https://www.irehr.org/2020/11/24/white-nationalists-prominent-at-stop-the-steal-mobilization-in-georgia/
https://www.irehr.org/reports/alt-right-to-groyper/
4. Boogaloo Boys (autonomous "militias") – they're essentially paramilitary LARPers in Hawaiian print shirts, and yes, they are racist. It's more difficult to see them in CA because of the Mumford Act (they can't publicly display guns, which is their thing – see other states, especially Michigan). They are blatantly attempting to accelerate the breakdown and balkanization of the United States (or in some cases desire a race war) where they hope to seize the moment to carve out their own little reactionary fiefdoms, which they assume white people will win and then return to a mythical greatness and prosperity. There are plenty of them organizing online in CA, including the Bay, and there have been a bunch of them at ReOpen/anti-mask rallies in Sacramento and other Central Valley cities. Often Boogaloo Boys will present themselves as "Anarcho-Capitalists" and associate with the Jo Jorgensen/Spike Cohen 2020 Libertarian Campaign. Making Kyle Rittenhouse a national hero basically poured kerosene on this dumpster fire. Like QAnon supporters, Boogaloo Boys gesture towards some elite "deep state" control of the government and have been known to use more QAnon styled slogans like "#SaveTheChildren" and "Kill Your Local Pedophile" often masking thinly veiled antisemitism. Boogaloo Boys are likewise very focused on their public image and public relations, often looking to form bad faith "alliances" with Black Lives Matter protestors where they can embed themselves, surveil left-wing protests, and normalize their presence at protests against the state.
https://www.bbc.com/news/blogs-trending-53018201
5. Revolt Through Tradition/Rise Above Movement/International Conservative Community (international organization) – Founded by racist Huntington Beach skinheads Robert Rundo and Benjamin Daley (originally called DIY Division), RAM or the Rise Above Movement built a reputation in 2017 as a Neo-Nazi fight club through a series of violent attacks along the California Coast. With a notable presence at the 2017 "Battles of Berkeley," RAM used these rallies to build up to their eventual participation at the deadly Unite the Right rally in Charlottesville. Suffering legal trouble after their attacks, co-founder Ben Daley was arrested, and Rundo went into hiding in Eastern Europe, a region which he built a friendly working relationship with the their fascist movements. With RAM disbanded and numerous members exposed, Rundo continues organizing through his Media2Rise propaganda accounts, and adherents have formed Revolt Through Tradition, RAM's spiritual successor, which focuses on emphasizing the work of Italian fascist Julius Evola. With International work done through the vehicle of the unassumingly titled International Conservative Community, Rundo and Daley's network continues to propagandize white supremacy and neo-Nazism.
https://www.revoltthroughtradition.org/
https://www.theguardian.com/sport/2019/nov/27/rams-revival-and-the-ongoing-struggle-against-mmas-far-right-fight-clubs
6. Rhodesian Flag & Camoflage (commonly used symbol) – occasionally used by Boogaloo Boys and other armed white nationalists. Rhodesia (present day Zimbabwe) was a white supremacist, settler-colonial apartheid state named after English colonizer and mass murderer Cecil Rhodes. During its short lived existence as an independent state Rhodesia was championed by white supremacist militiamen in the United States who, encouraged by the magazine "Soldier of Fortune", attempted to join the project as volunteers. A close ally of apartheid South Africa, white supremacists (see Dylann Roof) today use their patches, camoflage, and flag as a dogwhistle to white nationalists broadly.
7. Three Percenters (national organization) – National and Statewide militia loosely organized around the symbology of the III% which represents for its adherents the oft-touted myth that only 3% of American settler population took up arms to overthrow the British in the revolutionary war. Three Percenters are usually extremely anti-Muslim, anti-Black, and often fly the Confederate Flag alongside the Gadsden/American. Tied to numerous hate crimes, members of the Georgia III% "Security Force" provided security for the white supremacists who marched at Charlottesville "Unite the Right". Locally, III% bumper stickers can be seen alongside other thin blue line/"come and take it" and "Punisher" style bumper stickers. III%-er organizer Aaron Bate is a local organizer with his "Boots on the Ground Branding" and various III% groups are active in California (III% United Patriots etc). The California State Militia, specifically the 2nd Regiment Echo Company is active in the Sacramento and Central Valley area, and demonstrates III%er type ideology and symbols.
8. Q Anon (national movement) – They're an antisemitic death cult originating from 4chan and 8chan (online far-right imageboards) and are obsessed with shockingly intricate and ridiculous conspiracy theories, including all of the usual vile antisemitic tropes, up to and including blood libel. Sadly, there's a lot of entryism into all far right and even moderate right wing organizations as well as the new age "health" subculture. They're running a lot of candidates for public office and have massive numbers in terms of online presence. We've seen evidence of them doing outreach and promoting in the Bay. Many of their members are also members of other hate groups, or exist within the same right wing protest ecosystem. Proponents of the QAnon conspiracy theory often mask their beliefs due to the theory's unpopularity and have used coded hashtags like "#SaveTheChildren" and "#Adrenochrome," or slogans like "WWG1WGA (Where We Go One We Go All" to mask their association with the QAnon movement.
https://www.theguardian.com/us-news/2020/aug/25/qanon-conspiracy-theory-explained-trump-what-is
9. Golden State Skinheads (regional, mostly Central Valley) – classic boneheads with swastika tattoos. Participated in the Traditionalist Workers Party rally June 26, 2016 at State Capitol in Sacramento and stabbed seven people. They have ties to the Bay, as some of them live in the East Bay and South Bay off and on. There is considerable overlap with other subcultural white nationalist clubs, such as Bikers for Trump, Three Percenters and oddly, Asatru Folk Assembly a neo-pagan white supremacist organization.
https://www.irehr.org/2016/12/29/white-nationalist-announces-plans-bus-white-power-skinheads-whitefish/
10. American Guard (national organization) originally founded in Indiana with a presence on the west coast, American Guard are a group of mostly older racist skinheads looking to "get in" on the anti-immigrant violence associated with Trump rallies. Started out of the Indiana chapter of the Soldiers of Odin USA, itself run by Brien James (now a Proud Boy) of the Vinlander Social Club – a neo-pagan racist skinhead group, American Guard masks its vicious anti-immigrant bigotry with patriotic stars and stripes type imagery. Common signifiers of American Guard association include the crossed meat cleavers, a reference to the film Gangs of New York, which they idealize the character of "Bill the Butcher" an anti-immigrant gang leader. Additional symbols are an American flag shield with a cannon + the "come and take it" slogan and the slogan RAHOWA, an acronym for Racial Holy War. American Guard members have been seen buddying up to local MAGA organizer (and friend of blatant Nazis) Lindsay Grathwohl at the StopTheSteal protests in Sacramento.
11. RWDS Right Wing Death Squad/6MWE: Right Wing Death Squad and Six Million (Jews) Wasn't Enough. Two slogans and acroynms associated with the Proud Boys spotted at recent protests in the Pacific Northwest and in DC at StopTheSteal protests. RWDS is also a common ideological concept of the alt-right which idealizes the murder of communists, anarchists, and other leftists and draws heavily from the White supremacist concept of "Day of the Rope" referencing mass lynching and a supposed race war.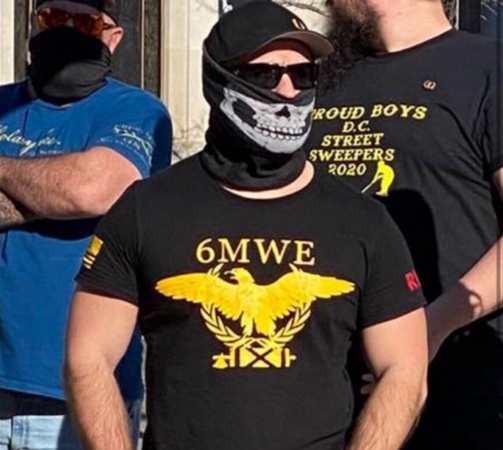 12. Goyim Defense League: founded by failed rapper/actor Jon Minadeo, a conspiracy theorist and Holocaust denier, the GDL is an Neo-Nazi response to the Anti Defamation League that seeks to spread antisemitic conspiracy theories with deliberately provocative PR stunts like protests outside of Holocaust Museums complete with Roman salutes, swastikas, and skullmasks. Based off of the word "Goy" or "Goyim" a yiddish slang term for gentile which the GDL believe constitutes some sort of persecution of white people, they've attempted to appropriate the term in some sort of pathetic "act of defiance". When they aren't getting their asses kicked and chased out of whatever neighborhood they decided to harass, the loosely organized membership of the GDL participate in banner drops, livestream, and make antisemitic propaganda on their site "Goyim TV". They have taken their hate tours as far as Colorado and Florida.
https://nocara.blackblogs.org/2020/05/13/north-bay-alert-anti-semite-activist-jon-minadeo-aka-handsome-truth-exposed/